The NC Tripping team, Carl and Christina, spent multiple weekends in Cleveland County. This blog draws mostly on their experience with a few additions. You can find their entire post and other great ideas using the link at the end.
Cleveland County has some delicious offerings everywhere from Uptown Shelby to Kings Mountain, Boiling Springs, and beyond. And it's not all barbecue and liver mush though we'll dig into those two local favorites.
We'll be sharing upscale international eats, classic pub fare, and much more. So pull up a chair and a fork and let's get to exploring these wonderful restaurants in Shelby and Cleveland County.
BARBECUE
ALSTON BRIDGES BARBECUE
620 E Grover St, Shelby NC.
Most locals are likely to tell you at least one of the following: a) to say that Red Bridges and Alston Bridges are related or b) to tell you which one is better. Well, Alston and Red Bridges are definitely not related.
Ironically, they both trained under Warner Stamey (one of the godfathers of Lexington Style Barbecue in the 1940s. In fact, it was Stamey and Alston Bridges that were related. They were brothers-in-law!
Alston Bridges prefers short shank shoulders from the same distributor his grandparents did and continues the family legacy day in and day out.
RED BRIDGES BARBECUE LODGE
Website | 2000 E Dixon Blvd
Do not leave town without stopping at the award winning Red Bridges Barbecue Lodge!
Bridges Barbecue has been smoking meat over hickory all night and day for 72 years. In true Western North Carolina fashion, their pork is served chopped or sliced and comes with a thick tomato sauce and tangy red coleslaw.
One last thing: Don't forget to leave room for that banana pudding!
THE HONEY HOG
Facebook | 4629 Fallston Rd, FallstonHead to the northeastern edge of Cleveland County and you'll find yourself in Fallston. It's home to The Honey Hog, a true destination restaurant.
They don't call themselves "farm-to-table" because instead, they're a "farm and table" restaurant. The hogs come from co-owner Tyler's farm down the road and then the other co-owner Johnny smokes them.
When eating Honey Hog's melt-in-your-mouth barbecue and enjoying any of their nightly specials, you'll quickly see Tyler and Johnny know good food and why this is a true food lover's place to eat.
THE FLYING PIG
FACEBOOK | 901 E COLLEGE AVENUE
NC Tripping did not get the pleasure of visiting the Flying Pig but this no frills spot is one of those non-descript places I look for when I travel. When you drive up, you can smell the barbecue before you get in the door. They cook it fresh daily in their smokehouse out behind the restaurant. Inside you are greeted by flying pigs adorning the counter area. Oh, and you should know they are across the street from the Shelby Cleveland County Regional Airport.
Flying Pig is not only known for the delicious barbecue but their brisket is a must try for brisket fans! Ask for one of each of their sauces for your cue. Never had anything like it, and it's amazing!
IZZI 'QUE BARBEQUE
Website | 127 W Marion St
If you want good pub-inspired food while in Uptown Shelby, head to Izzi 'Que Barbecue! Their incredible service is always a plus, but Izzi 'Que is also known for handcrafted cocktails, draft beers, and smoking as much meat as they can!
Whether you're talking about the wings, 'cue, and even the chicken that goes on their chicken salad, smoking meat is what Izzi 'Que does well!
My pick? I think you should at least stop by for some Pork Fries and delicious Danish Cut Baby Back Ribs.
UPTOWN SHELBY RESTAURANTS
THE SHELBY CAFE
Facebook | 220 S Lafayette St
Today, Shelby Cafe remains many people's go-to in and around Shelby. This classic institution's food is so good that everyone passing through Cleveland County must experience it at least once.
Personally, I think you can't go wrong with anything on the menu, but an order of that mush is a must! If you don't think liver mush is a big deal, ask yourself, "why is it on these people's NC bucket list?"
J-BIRDS DELI AND ALES
Website | 106 W Marion St
The perfect balance to a weekend in Shelby is made whole and healthy by a visit to J-Birds Deli and Ales. The owner, Justin, was behind the bar when we ordered.
From the moment we walked in, you could feel a chill and communal vibe to the place. J-Birds serves up gourmet artisanal sandwiches to accompany an impressive rotating tap and a great selection of beers to-go.
We know it's hard to choose between The Hot Chick and The Kamikaze so we recommend multiple trips to eat both and even complete a menu circuit!
PLEASANT CITY WOOD FIRED GRILLE
Website | 233 S Lafayette St
Fun fact: You might get a little bit of a District 12 feeling while in Uptown Shelby. That's because many Hunger Games outdoor scenes were filmed in the area.
While most of the production sets have been torn down, you can still feel like your right next to Katniss and Peta in Shelby. How? Visit Pleasant City Wood Fired Grille and try out the Hunger Games-inspired "Girl on Fire" pizza!
You also can't go wrong with a half and half pizza like what we did! On one side, there's the hot and spicy Katniss inspiration and on the other side, traditional barbecue with sauce, and coleslaw!
LAFAYETTE STREET GRILL & PUB
Website | 209 S Lafayette St
This classic pub is more than what meets the eye! Imagine fresh ingredients and homemade chips and Lafayette Street Grill & Pub offers up even more.
I'll go back for mouthwatering wings, a great draft list, and an eclectic offering of Thai food! Lafayette is a great way to start your night in Uptown Shelby.
NIFEN BISTRO
Website | 214 S Lafayette Street
If you're looking for an upscale and romantic place to eat in Uptown Shelby, then NiFen Bistro is your spot! Here, you'll find classic American dishes like Grilled New York Strip in a red wine demi or the best Fried Oyster Salad in North Carolina.
They also offer an impressive wine list to match its cozy atmosphere. The portions at NiFen are generous, just like the wait staff, and you'll be happy you chose this place for your evening out!
TOSCANOS BISTRO
Website | 5 E Marion St #
Toscanos Bistro brings together mouthwatering Italian and Greek options, making it a great and unique restaurant in Shelby! $5 burgers on Mondays and healthy salads every day keep things fresh and fun throughout the week.
And with affordable prices and vegetarian options, it's easy to fill up fast. Grab some Spanakopita or traditional Moussaka but make sure to save room for some tiramisu for dessert!
NEWGRASS BREWING
Website | 213 S Lafayette St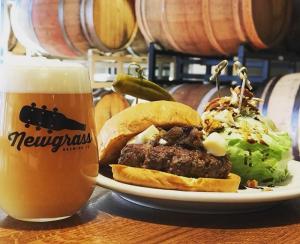 Newgrass Brewing is first and foremost a locally sourcing brewery. However, it makes sense that they also use those methods to serve food!
By utilizing local grass-fed beef and cooking with only the best local ingredients, Newgrass Brewing is not just a place to kick back with a couple of brews. You can spend an evening dining here, too!
Make sure to try the Irish Nachos! Chase it down with a cold Fiddler's Dream and you'll be in foodie heaven.
UPTOWN SWEETS AND TREATS
Facebook | 221 S Lafayette St
And if you're craving something sweet post-dinner, how about something sweet and savory? Uptown Sweets and Treats is where two cravings are more than met.
There, you can find scooped or soft-serve ice cream, thick creamy fudge, and delicious local cupcakes. They also have a wide variety of gourmet popcorns.
If you want a nice mix of flavors, grab a Cheerwine Cupcake and take home a bag of dill pickle popcorn. Ask for samples before you go for something wild!
TWO AWESOME WINERIES
VERONÉT VINEYARDS
Website | 1549 Ike Brooks Dr, Kings Mountain
Also in the Kings Mountain area is the beautiful and rustic Veronét Vineyards. This place's gorgeous views are just 30 minutes west of Charlotte if you're coming from that direction.
Veronét is 5 acres of picturesque family-run vines. Sip on a Viognier as you look out on to the vines with a panoramic view of Crowders Mountain.
BAKER BUFFALO CREEK VINEYARD
Website | 3521 Fallston-Waco Rd, Lawndale
In the Fallston area, you'll find the serene Baker Buffalo Creek Vineyard, where grapes have been growing since 2003. With eight different grape varietals, Baker Buffalo creates a wide range of wines from sweet muscadine to the peppery cabernet franc.
The scenery is as worth the visit as the wine. The perfect location for special events and weddings, Baker Buffalo is situated on a beautiful family farm that's been there for generations. You may recognize their red barn from a Hillshire Farms commercial.